PLEASE SUPPORT THIS PLUGIN
Though a great deal of development time went into this plugin, PetPress is being offered free for non-profit animal shelters. Your support will enable me to continue to build features into PetPress and make it an even more valuable tool for helping homeless animals find their furever homes.
PetPress: a PetPoint plugin for WordPress
PetPress is a WordPress plug-in for PetPoint users. This is the missing piece which can enable your animal shelter to use WordPress for your website while still including animal listings.
PetPress has been accepted into the WordPress plugin catalog (the first and only plugin of its kind!) and can be downloaded at http://www.wordpress.org/plugins/petpress.
Sample Site
To see the content generated by the PetPress plug-in using actual, live data, see our PetPress example page.
How to install PetPress
PetPress can be installed like any other WordPress plugin, either by accessing it through the catalog (approval is pending) or by uploading the .zip file.
Once you install PetPress, there is a configuration step before you can use it on your site.
Configuring PetPress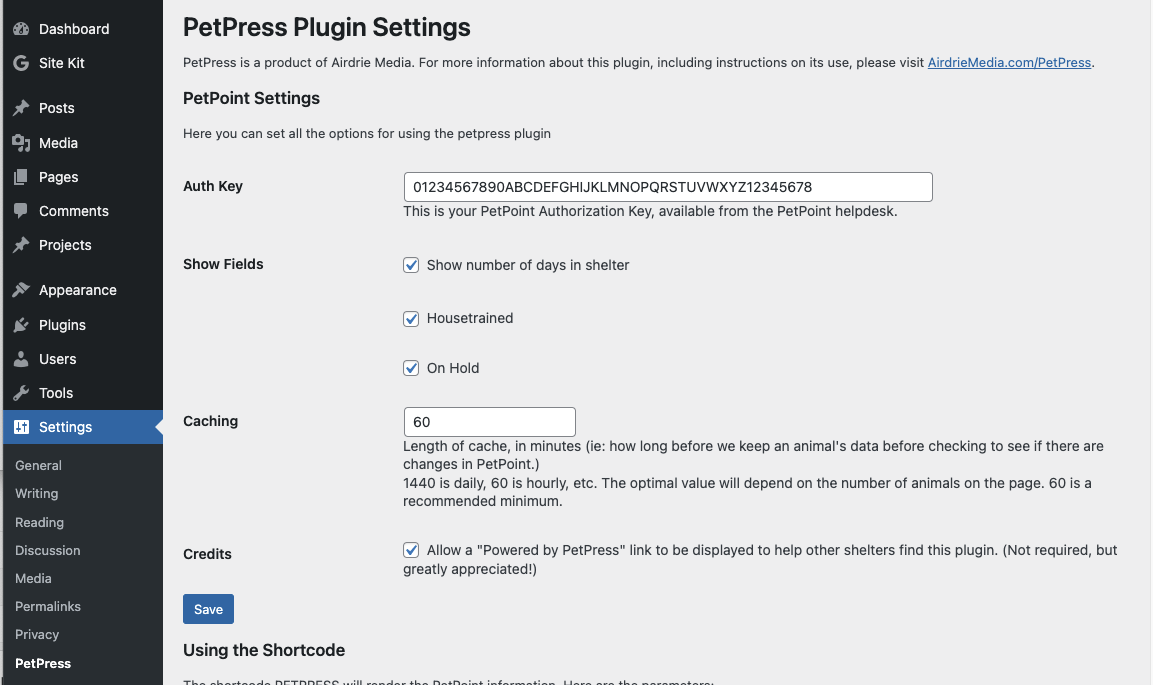 The "settings" screen (under "Settings -> PetPress") contains the following configuration fields:
Auth Key: To use the PetPress plugin, you will need to know your PetPoint authorization key. This key can be found in PetPoint under "Admin > Admin Options > Setup > Online Animal Listing Options". You can also contact PetPoint support for your code. 
Show Fields: This series of checkboxes allow you to select which fields of PetPoint data should be shown on your WordPress page.
Caching: Because retrieving large amounts of data from PetPoint is a time-intensive task, PetPress stores the retrieved data locally and serves up this local copy for subsequent visitors. This makes the page loads extremely fast. However, since the data in PetPoint changes over time, PetPress needs to check back occasionally to get the updated data. You can set this interval here. The more often your PetPoint data changes, the shorter you will want your cache interval to be. Be aware that the shorter you set this interval, the more likely it is that a visitor may have to wait a few extra seconds for the new data to be pulled from PetPoint.  
Using PetPress
The syntax for PetPress is as follows:
[PETPRESS site="####" species="1″] where "####" is the site ID of your site.
Shortcore parameters (always lower case) are:
site – (required), the site code for the location for which you want to display animals. If your organization has multiple sites, you can have different pages for each.
species – If this field is present, the page will list all available animals of that species for the specified site. Valid arguments are: 1 = dogs, 2 = cats, 3 = other animals.
id – The PetPoint ID of a specific animal. If you provide an "id" parameter, you do not need to also pass a species parameter.
sort – The sort order for display. Valid arguments are "age", "name", and "weight". The default value is "name".